Grilled Szechuan Steak and Bok Choy Wraps
with Spicy Peanut Mayonnaise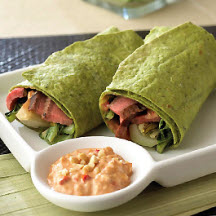 Recipe courtesy of The Beef Checkoff.
This recipe is an excellent source of protein, niacin, vitamin B6, vitamin B12, iron, selenium and zinc; and a good source of fiber.
Recipe Ingredients:
Marinade:
2 tablespoons rice vinegar
2 tablespoons dark sesame oil
2 tablespoons low sodium or regular soy sauce
1 tablespoon minced fresh ginger
1 pound top beef round steak, cut 3/4-inch thick
2 baby bok choy, cut lengthwise in half
4 spinach wraps or tortillas (8 to 10-inch diameter)
Spicy Peanut Mayonnaise:
2 tablespoons low-fat or regular mayonnaise
2 tablespoons finely chopped dry roasted peanuts
1 1/2 teaspoons minced fresh ginger
1 to 1 1/2 teaspoons chili-garlic paste
3/4 teaspoon reduced sodium or regular soy sauce
3/4 teaspoon rice vinegar
1/2 teaspoon dark sesame oil
Cooking Directions:
For Marinade: Combine ingredients in small bowl. Cover and refrigerate 1 tablespoon for bok choy.
Place beef steak and remaining marinade in food-safe plastic bag; turn steak to coat. Close bag securely and marinate in refrigerator 6 hours or as long as overnight.
Remove steak from marinade; discard marinade. Place steak on grid over medium, ash-covered coals. Grill, uncovered, 8 to 9 minutes for medium rare doneness, turning occasionally. (Do not overcook.)
Brush bok choy with reserved 1 tablespoon marinade. Grill bok choy, uncovered, 4 to 5 minutes or until tender and lightly browned, turning once.
Meanwhile Prepare Spicy Peanut Mayonnaise: Combine ingredients in medium bowl; mix well.
Carve steak into thin slices. Cut each bok choy half lengthwise in half again, forming quarters. Cut core from each quarter. Spread mayonnaise mixture evenly on spinach wraps. Divide steak slices and bok choy among wraps. Roll up tightly.
Makes 4 servings.
Tip: To prepare on gas grill, preheat grill according to manufacturer's directions for medium heat. Grill steak, covered, 10 to 11 minutes for medium rare doneness, turning occasionally. (Do not overcook.)
Nutritional Information Per Serving (1/4 of recipe): Calories: 481; Total Fat: 17g; Saturated Fat: 4g; Cholesterol: 61mg; Total Carbs: 45g; Fiber: 3g; Protein: 35g; Sodium: 669mg.
Recipe and photograph courtesy of The Beef Checkoff.