Gyro-Burger with Yogurt Sauce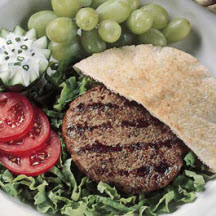 Recipe courtesy of the American Lamb Board.
Recipe Ingredients:
1 pound ground American Lamb
1 teaspoon dried oregano, crushed
1/2 teaspoon garlic powder
1/2 teaspoon ground black pepper
1/4 teaspoon onion powder
1/4 teaspoon ground cumin
1/4 teaspoon salt
2 (6-inch) pita bread rounds, halved crosswise
1 cup chopped fresh spinach or lettuce
Yogurt Sauce:
3/4 cup low-fat plain yogurt
1/2 medium cucumber, peeled and chopped (about 2/3 cup)
2 green onions, thinly sliced
1 tablespoon chopped fresh mint or 1 teaspoon dried mint, crushed
1/4 teaspoon granulated sugar
1/4 teaspoon garlic powder
Salt (optional)
Cooking Directions:
In large bowl, combine oregano, garlic powder, pepper, onion powder, cumin and salt. Add lamb; mix well. Form into 4 patties, about 3/4-inch thick.
Grill over medium coals or broil about 5 minutes on each side or to desired degree of doneness.
For Yogurt Sauce: In medium bowl, combine yogurt, chopped cucumber, sliced green onion, mint and sugar. Split open each pita half forming a pocket. Place gyro-burger in each pocket; top with chopped spinach and yogurt mixture.
Makes 4 servings.
Nutritional Information Per Serving (1/4 of recipe): Calories: 438; Total Fat: 21g; Cholesterol: 113mg; Total Carbs: 21g; Fiber: 2g; Protein: 33g; Sodium: 427mg.
Recipe and photograph courtesy of the American Lamb Board.