Ham and Cheese Frenchie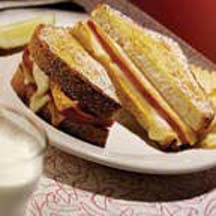 A tasty version for the classic Monte Cristo sandwich, a ham and cheese sandwich, dipped in an egg mixture and grilled like French toast—hence the play on the recipe's name. In keeping with the theme, dust the sandwich with a bit of powdered sugar, if desired.
Recipe Ingredients:
12 slices whole wheat bread
4 tablespoons butter, softened
6 slices New England style ham, bologna or luncheon meat
6 (1-ounce) slices Wisconsin cheddar cheese
3 large eggs
1/2 cup milk
Dash of salt
Cooking Directions:
Spread bread with butter.
Prepare sandwiches of ham, bologna or luncheon meat, and cheese.
Beat together eggs, milk and salt.
Dip sandwiches in egg mixture.
Grill on lightly buttered griddle on medium heat until toasty and cheese begins to melt. Turn and brown on other side.
Serve hot.
Makes 6 servings.
Recipe and photograph provided courtesy of Wisconsin Milk Marketing Board, Inc.