Hickory Smoked Turkey Sandwich
with Chipotle Caesar Dressing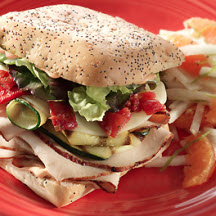 Recipe kindly provided by Chef Mark Equam and Chris Blaskey, Director Food and Nutrition Services of the Stern Family Center for Extended Care and Rehabilitation, a member of the North Shore-LIJ Health System in Manhasset, New York.
Recipe Ingredients:
Chipotle Caesar Dressing:
1/2 cup mayonnaise
3 tablespoons flavorful olive oil
1 1/2 cloves garlic
1/2 tablespoon Dijon mustard
1 tablespoon puréed chipotle
1 tablespoon freshly squeezed lemon juice
1 tablespoon white wine vinegar
1/2 cup freshly grated Parmesan cheese
Grilled Squash:
6 ounces zucchini, thinly sliced
6 ounces yellow squash, thinly sliced
Olive oil as needed
Salt and freshly ground black pepper as needed
Sandwich:
6 (6-inch) bagel bread squares with seeds or sub rolls, split
1 3/4 pounds fully-cooked Hickory Smoked Turkey Breast, thinly sliced
6 ounces provolone cheese, sliced
6 tablespoons chopped sun-dried tomatoes
6 to 12 leaves red leaf lettuce, washed, dried and chilled
Cooking Directions:
For Chipotle Caesar Dressing: Prepare dressing by placing mayonnaise, olive oil, garlic, mustard, chipotle, lemon juice, vinegar and Parmesan into the bowl of a food processor. Purée until well blended. Cover and chill until ready to use.
For Grilled Squash: Drizzle sliced squash with olive oil and lightly sprinkle with salt and pepper. Grill sliced squash just until tender. Place in the refrigerator to chill.
For Sandwich: Spread about 2 tablespoons Chipotle Caesar Dressing on both sides of each roll. On each roll, layer 3 ounces smoked turkey, 1 ounces Provolone, 1 tablespoon sun-dried tomatoes, 6 slices squash and 2 lettuce leaves in a neat fashion. Slice on the diagonal and serve immediately.
Makes 6 servings.
Recipe and photograph courtesy of National Turkey Federation.