Homestyle Ham and Cheese Pockets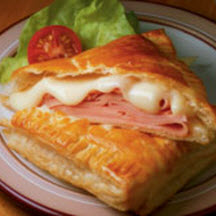 These hot and tasty homemade ham and Swiss cheese sandwich pockets are easily made with ready-to-use puff pastry squares.
Recipe Ingredients:
12 frozen puff pastry squares (5 x 5 inches each), thawed according to package directions
1/2 pound thinly sliced ham
6 teaspoons Dijon mustard
1/2 pound Swiss cheese
1 tablespoon water, plus additional water as needed
1 large egg
Cooking Directions:
Preheat the oven to 400°F (205°C).
Lay the puff pastry squares out on a lightly floured surface. Place 2 ounces of ham on half of the squares, leaving a 1/4-inch border all the way around. Spread 1 teaspoon of Dijon mustard evenly over the ham, and top with 2 ounces of Swiss cheese.
Lightly brush the border of each square with water. Place the remaining square evenly on top of the cheese. With the prongs of a fork, seal the pastry all the way around.
Combine the egg with the water, beat well. With a pastry brush, baste all of the squares with the egg wash, and prick the tops with a fork.
Place the squares on a parchment-lined sheet pan (12 pockets per sheet pan) and bake for 10 to 12 minutes, or until golden brown and puffy.
Serve the pockets immediately.
Makes 6 servings.
Tip: Any type of meat can replace the ham.
Recipe and photograph provided courtesy of Wisconsin Milk Marketing Board, Inc.