Jumbo Party Sandwich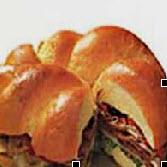 Thinly sliced roast beef, provolone cheese and olives are a sandwich classic—and a party favorite.
Recipe Ingredients:
1 1/2 pounds thinly sliced cooked lean roast beef
1/2 cup sour cream
1 tablespoon horseradish-style mustard
1/4 teaspoon salt
1/8 teaspoon ground black pepper
1 round loaf white bread, unsliced (2 pounds)
1 clove garlic, minced
1/4 cup butter, softened
1 tablespoon snipped Italian parsley
1 teaspoon crushed dried basil
3 cups chopped lettuce
6 thin slices red onion, separated into rings
6 ounces fontina or provolone cheese, sliced
1 red bell pepper, thinly sliced
1/4 cup sliced pitted ripe olives
Cooking Directions:
Combine sour cream, mustard, salt and pepper; reserve.
Cut bread in half horizontally. Remove soft center of bread, leaving about a 1-inch- thick shell.
Mash garlic; combine with butter, parsley and basil. Spread cut sides of bread with herb butter.
To assemble, layer ingredients in the following order in bottom of loaf: lettuce, onion, cheese, roast beef, sour cream dressing, red pepper slices and olives. Cover with top of loaf.
Cut into 8 wedges; serve immediately.
Makes 8 servings.
Recipe and photograph provided courtesy of the Beef Industry Council.