Layered Ham and Cheese Quesadillas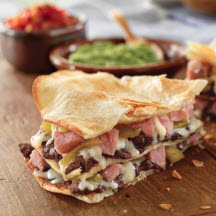 Customizing the quesadilla is easy to do – sour cream, salsa, guacamole and cilantro are all great garnishes to top the tortillas.
Recipe Ingredients:
1 pound ham steak, sliced
Kosher salt and freshly ground black pepper
12 (8-inch) flour tortillas
1 (15-ounce) can refried black beans, (or refried pinto beans), warmed
1/4 cup roasted mild green chiles, chopped
2 cups salsa (any variety you prefer)
1 cup shredded Monterey Jack cheese
Cooking Directions:
Preheat oven to 375°F (190°C).
Season the ham steak with salt and freshly ground pepper.
Place the seasoned ham steak on a parchment lined baking sheet and transfer to the preheated oven and cook for about 15 to 20 minutes until the internal temperature is 140°F (60°C). Halfway through the cooking time, flip the ham steak over, and continue to cook until done.
Allow the ham steak to rest loosely covered with foil, for at least 10 minutes before cutting. Cut the ham into small 1/2-inch cubes and set aside.
Preheat broiler. Put tortillas in single layer on baking sheet. Brush with oil. Broil until toasted, about 3 minutes. Turn and set aside.
Spread a thin layer of the warmed beans on one of the tortillas. Top with a few tablespoons of shredded cheese and a sprinkle of cubed ham steak and some of the green chilies. Repeat process one more time and then top with another tortilla so there are 3 tortillas per stack, with the top tortilla plain. Repeat this process with the remaining tortillas and ingredients.
Once you have 4 stacks of quesadillas, drizzle salsa over each of the stacks and sprinkle with a bit of cheese. Place the quesadillas back into the oven for a few minutes to melt the cheese. Then, cut into 4 wedges. Garnish as desired.
Makes 8 servings.
Nutritional Information Per Serving (1/8 of recipe): Calories: 400 calories; Protein: 23 grams; Fat: 12 grams; Sodium: 1800 milligrams; Cholesterol: 40 milligrams; Saturated Fat: 6 grams; Carbohydrates: 48 grams; Fiber: 4 grams.
Recipe and photograph provided courtesy of National Pork Board.