Marinated Tuna Sandwiches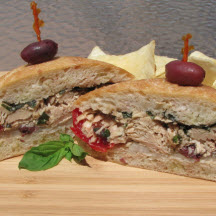 If you have only thought of a tuna sandwich as the typical tuna-with-mayo, then you have been missing out on a real taste delight! This "must try" sandwich is sure to become a "must have".
For the best taste, use only premium, gourmet canned tuna and garden ripe tomatoes. I've found that store-bought fresh Compari tomatoes have good flavor year-round, and are an acceptable substitute when garden tomatoes are not available.
Recipe Ingredients:
2 ciabatta or crusty French rolls
2 tablespoons extra virgin olive oil
1 clove garlic, bruised
2 tablespoons red wine vinegar
1/2 of a medium white or red onion, thinly sliced*
2 tablespoons sliced or coarsely broken pieces of kalamata or black olives
1 (7.5-ounce) can of premium albacore tuna, drained**
1 medium-sized ripe tomato, sliced 1/2-inch thick (best with garden ripe tomatoes or a premium fresh tomatoes such as Campari)
2 tablespoons chopped fresh basil leaves
Kosher or sea salt and freshly ground black pepper to taste
Cooking Directions:
Tear off 2 sheets of plastic wrap, each large enough to wrap a sandwich.
Slice ciabatta rolls in half and lay one whole roll open on each plastic sheet.
Sprinkle each roll half with 1/2 tablespoon of the olive oil.
Gently rub the bread with the bruised garlic; discard the garlic.
Sprinkle each roll half with 1/2 tablespoon red wine vinegar.
On the bottom half of each ciabatta roll layer 1/2 of the onion, olives, tuna, tomatoes and basil.
Season to taste with salt and pepper.
Place the top half of the ciabatta roll on and wrap each sandwich tightly in the plastic wrap.
Let stand at room temperature for 1 hour or refrigerate 2 or more hours before serving to allow flavors to intensify and "marinate" the sandwich.
Makes 2 sandwiches.
*For the best taste, soak the sliced onion in ice water for at least 10 minutes, drain, dry thoroughly with a paper towel and use as directed.
**If possible, do try to use a premium canned tuna purchased in specialty seafood markets (or home canned). Yes, it is more expensive, but the taste is well worth it.
Make It Quicker and Easier Tip: Instead of layering the ingredients, finely mince 1 small clove of garlic, chop the onion and dice the tomato, then mix together in a bowl with the tuna, chopped basil, olive oil, red wine vinegar, salt and pepper to taste (when mixing, don't break the tuna up too much, keep it "chunky"); cover and allow flavors to marry at room temperature for about 10 minutes or for about 1 hour in the refrigerator. Serve on any style bread, with toast points or your favorite crackers.
Nutritional Information Per Serving (1/2 of recipe): 436.4 calories; 45% calories from fat; 22.1g total fat; 31.9mg cholesterol; 953.1mg sodium; 518.4mg potassium; 27.5g carbohydrates; 2.5g fiber; 3.1g sugar; 25.0g net carbs; 31.4g protein.
Recipe and photograph by Hope Cantil; Copyright © 1999; property of CooksRecipes.com. See Terms of Use.