Mascarpone and Dulce De Leche Grilled Cheese Sandwiches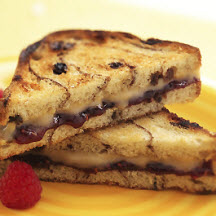 This extraordinary grilled cheese sandwich is perfect for breakfast, snack time or anytime you have a craving for something warm, toasty, creamy, cheesy and sweet!
Recipe Ingredients:
4 ounces Wisconsin Mascarpone Cheese
2 tablespoons dulce de leche*
1/2 teaspoon pure vanilla extract
2 tablespoons butter, softened
8 slices cinnamon raisin bread
2 tablespoons raspberry preserves
Cooking Directions:
In a small bowl, combine Mascarpone, dulce de leche and vanilla extract.
Butter one side of each slice of bread.
Spread Mascarpone mixture on non-buttered side of 4 slices of bread.
Spread raspberry preserves on non-buttered side of remaining 4 slices of bread.
Place one slice of bread with raspberry preserves on each Mascarpone-topped bread slice, buttered sides out.
Place sandwiches on a preheated 12-inch stovetop griddle or skillet. Grill 1 to 2 minutes per side over medium high heat, or until bread is lightly toasted. Remove and serve immediately. The sandwiches are delicate—cut in half carefully or simply leave whole.
Makes 4 servings.
*Available in most supermarkets, the brand NESTLÉ LA LECHERA offers dulce de leche in plastic bottles which can be stored in the refrigerator after opening to be used as needed.
Recipe and photograph provided courtesy of Wisconsin Milk Marketing Board, Inc.