Meatball Hero Sandwiches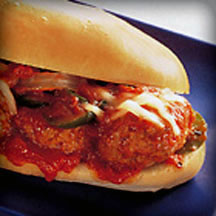 A classic Italian deli specialty, savory tender meatballs tucked inside toasted Italian rolls and smothered in marinara sauce.
Recipe Ingredients:
1 1/2 pounds lean ground beef
1/2 cup freshly grated Parmesan cheese
2 large eggs
1/4 cup chopped fresh flat-leaf parsley
1/4 cup seasoned bread crumbs
3 large garlic cloves, finely minced
1/2 teaspoon dried basil
1/2 teaspoon dried oregano
1/2 teaspoons freshly ground pepper
1/2 teaspoon salt
1 (26-ounce) jar marinara sauce
6 (6-inch long) Italian or French rolls, split lengthwise, toasted
Cooking Directions:
Preheat oven to 350°F (175°C). Grease heavy large baking sheet.
Combine ground beef, Parmesan cheese, eggs, parsley, bread crumbs, garlic, oregano, pepper and salt in large bowl and blend thoroughly. Using moistened hands, shape meat mixture into 1 1/2-inch rounds and place on prepared baking sheet, spacing evenly.
Bake meatballs until just firm to touch and cooked through, about 20 minutes.
Bring marinara sauce to simmer in heavy large saucepan. Add meatballs to sauce and simmer about 15 minutes.
Gently press center of bottoms of rolls to compact slightly. Spoon 5 or 6 meatballs into depression in each roll. Spoon enough sauce over to coat. Place tops of rolls on and serve.
Make 6 servings.