Meatball Sandwiches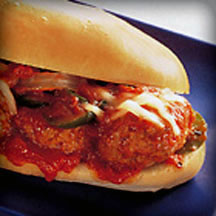 Load up warm, soft buns with savory meatballs smothered in marinara sauce. These sandwiches will become a family favorite meal. They make great Game Day fare, too!
Recipe Ingredients:
1 pound lean ground beef
1/4 cup Italian-style bread crumbs
1/4 teaspoon salt
1/4 teaspoon ground black pepper
1/2 cup freshly grated Parmesan cheese
1 teaspoon dry Italian seasoning
1 tablespoon olive oil
1 cup thick marinara sauce
4 (6-inch long) Italian or French rolls, split lengthwise, toasted
1 tablespoon freshly grated Parmesan cheese
Cooking Directions:
In a medium size bowl, combine ground beef, bread crumbs, salt, pepper, Parmesan cheese and Italian seasoning. Mix only until combined and form into 16 evenly sized meatballs.
Heat olive oil in a large skillet over medium-high heat. Add meatballs and brown on all sides until cooked through, about 10 to 12 minutes.
In a small saucepan, heat spaghetti sauce until warm only.
Place buns on a baking sheet and heat at 250°F (120°C) until soft and warm, about 3 to 4 minutes.
Place 4 meatballs on each bun, top with warmed sauce, and sprinkle with 1 tablespoon Parmesan cheese. Serve immediately.
Make 4 servings.