Mirassou Sunset Sliders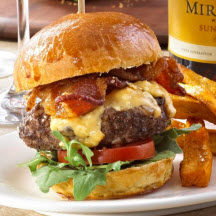 Sliders are a party favorite, and this flavorful version of the mini sandwich is guaranteed to wow your guests.
Recipe Ingredients:
1 pound lean ground beef (preferably grass fed)
1/2 cup finely chopped baby bella mushrooms
1/4 cup minced shallots or red onion
1/4 cup Mirassou Sunset Red
1 tablespoon minced fresh rosemary
2 teaspoons Dijon mustard
1/2 teaspoon sea salt
1/2 cup shredded aged Gouda cheese
Freshly ground pepper to taste
8 brioche, ciabatta or other small slider rolls
8 thin Roma tomato slices
4 strips cooked cherry wood or apple wood smoked bacon, broken into quarters
Baby arugula leaves
Cooking Directions:
Using your hands, mix beef, mushrooms, shallots, wine, rosemary, Dijon and salt in a medium bowl. Shape into 8 very flat patties.
Grill, broil or pan fry for 3 minutes. Turn and top with cheese; cook for 2 minutes more.
Serve on lightly toasted rolls with tomato, bacon and arugula.
Makes 8 servings.
Recipe tip: Dress arugula with a bit of olive oil and balsamic for extra flavor.
Pairing Suggestion: Pairs with Mirassou Sunset Red.
Recipe and photograph provided by www.mirassou.com via Brandpoint Content; Copyright 1996-2014.