MLT Wrap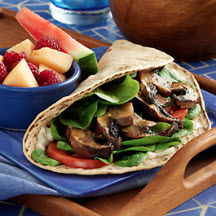 This recipe can be prepared on the grill or stovetop.
Recipe Ingredients:
4 large Portabella mushrooms, sliced (or 8 ounces white button mushrooms, quartered)
2 to 3 tablespoons olive oil
1 teaspoon salt-free steak seasoning
Salt, to taste
1/2 cup low-fat mayonnaise
2 teaspoons fresh minced ginger
2 cups fresh baby spinach
2 small tomatoes, thinly sliced
4 Flatout sandwich wraps
Cooking Directions:
Brush Portabella strips with olive oil and sprinkle with steak seasoning and salt, to taste.
For Grilling: Preheat grill. Once grill is hot, cook Portabella strips until deep brown, about 10 minutes. Turn and grill until golden, another 6 to 8 minutes.
For Stovetop: heat olive oil in large non-stick skillet over medium-high heat. Add a single layer of mushrooms and cook, without stirring, for about 5 minutes or until mushrooms become red-brown on one side. Flip mushrooms and cook about 5 minutes more, until other side is same color.
While mushrooms are cooking, warm wraps on the grill in foil or lightly grill for just 20 seconds. If you are cooking inside, warm wraps in a dry skillet.
Stir mayonnaise and ginger together and divide among wraps, spreading to cover; top with spinach and tomato slices. When mushrooms are done, slice in to thin strips and sprinkle with more steak seasoning, if desired. Place mushrooms on wraps and roll up.
Makes 4 servings.
Nutritional Information Per Serving (1/4 of recipe): Calories: 342; Calories From Fat: 175; Total Fat: 21g; Saturated Fat: 3g; Cholesterol: 10mg; Total Carbs: 35g; Fiber: 7g; Protein: 10g; Sodium: 736mg.
Recipe and photograph courtesy of the Mushroom Council.