Monte Cristo Sandwiches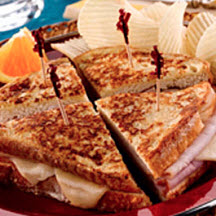 Recipe courtesy of the American Egg Board.
Recipe Ingredients:
4 slices whole wheat or white bread
2 tablespoon honey mustard
2 (1-ounce) thin slices ham
2 (1-ounce) thin slices turkey
2 (1-ounce) slices Swiss or mozzarella cheese
2 large eggs, beaten
1/4 cup fat free or regular half-and-half
1 to 2 tablespoons butter
Cooking Directions:
Spread one side of 2 bread slices with mustard. Top remaining 2 slices with ham, cheese slice and turkey slice. Close sandwiches with mustard side down.
Combine eggs and half-and-half in a small bowl and using wire whisk beat to combine.
Place sandwiches in a shallow casserole dish and pour batter over sandwiches, pressing to absorb liquid. Turn sandwiches and press. Refrigerate sandwiches for 15 minutes.
Heat a large skillet over medium heat and melt butter. Cook sandwiches in skillet on each side until golden brown and cheese has melted. May turn sandwiches again to make sure batter is cooked and bread is crispy. Cut each sandwich into 4 triangles. Serve with baked chips and pickle if used for lunch. If served for breakfast or brunch, serve with fresh fruit.
Makes 2 servings.
Tip: May also bake sandwiches in oven. In a separate casserole dish melt butter in casserole dish placed in oven. Remove sandwiches from batter and place in casserole dish in melted butter. Bake at 400°F (205°C) for 20 minutes and place under broiler for 1 to 2 minutes (watch carefully).
Recipe and photograph courtesy of the American Egg Board.