Monumental Muenster Melt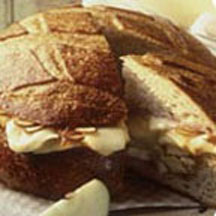 This is one monumental party sandwich that is sure to be a big hit with guests. Recipe by Mary Pat Cox, Scottsdale, Arizona.
Recipe Ingredients:
1 1/2 pound loaf round sourdough bread
1/2 cup raspberry vinaigrette salad dressing
12 ounces cooked chicken slices
4 ounces brick cheese, sliced
4 ounces Muenster cheese, sliced
6 ounces apricot preserves
1/4 cup almonds, sliced and toasted
8 ounces Brie, sliced
Cooking Directions:
Preheat oven to 350°F (175°C).
With a serrated knife, slice horizontally through top of bread. Pull out soft center from bottom portion of loaf, making a bread bowl.
Drizzle bottom and top halves of loaf with salad dressing.
Fill bread bowl with chicken, brick and Muenster cheese slices. Spread preserves over cheese and sprinkle with almonds. Top with Brie slices. Place bread top over filled bowl.
Wrap with foil and bake 25 to 30 minutes.
Slice into 6 wedges and serve.
Makes 6 servings.
Tip: To toast almonds, place almonds on baking sheet in preheated 350°F (175°C) oven and bake until lightly toasted, 5 to 7 minutes.
Recipe and photograph provided courtesy of the American Dairy Association.