Moroccan Chicken Naanini with Nectarine Chutney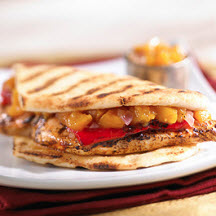 Recipe courtesy of B.C. Tree Fruits Limited.
Recipe Ingredients:
4 boneless, skinless chicken breasts
1/2 cup harissa paste
1/2 cup fresh lime juice
1/2 teaspoon salt
4 naan bread, halved
1 tablespoon canola or vegetable oil
4 large roasted red bell pepper strips
Nectarine Chutney
2 cups peeled, chopped ripe California nectarines (2 to 3 nectarines)
1/2 cup minced shallots
1/3 cup white wine vinegar
1/3 cup brown sugar, packed
1 1/2 tablespoons grated fresh ginger
1/4 teaspoon ground cinnamon
1/4 teaspoon ground allspice
Cooking Directions:
Place chicken breasts between plastic wrap and pound to flatten. Add harissa paste, lime juice and salt in a large resealable plastic bag. Knead bag to mix, then add chicken. Seal bag, then turn several times until well coated with mixture. Refrigerate for 2 hours to marinate.
Meanwhile, stir together chutney ingredients in a medium saucepan and bring to a boil. Reduce heat and simmer, covered, for 15 minutes. Remove cover and cook for 5 to 10 minutes more to cook off excess liquid. (Chutney may be made several days ahead and stored tightly covered in the refrigerator.)
Cook chicken over medium-hot grill for about 5 minutes on each side or until cooked through.
Place cooked chicken on half of the bread pieces. Spread on chutney and top with pepper strip and remaining bread. Brush both sides lightly with oil and place on grill over medium heat. Press down to flatten slightly with a panini press or foil-covered brick, and cook for about 3 to 5 minutes on each side or until lightly browned.
Serve with additional chutney, if desired.
Makes 4 servings.
Recipe and photograph courtesy of B.C. Tree Fruits Limited.