Mushroom and Egg Wrap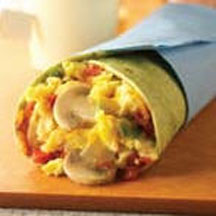 This economical, nutritious and satisfying Southwestern-style mushroom, cheddar cheese and egg sandwich wrap makes a quick meal anytime of the day.
Recipe Ingredients:
1/4 cup potato, pepper and onion blend, diced, frozen
Pinch of kosher salt
1/2 cup white button mushrooms, sliced
1 large egg, beaten
2 tablespoons cheddar cheese, shredded
1/2 teaspoon black pepper, freshly ground (to taste)
1 (8-inch) flour tortilla
2 tablespoons prepared salsa
Cooking Directions:
Place potato, pepper, and onion blend in a 2-cup microwavable measuring cup, loosely cover and microwave on high for 1 minute, stirring once and adding a pinch of salt at the 30 second mark.
Add mushrooms and microwave on high for another minute, stirring at the 30 second mark. Drain off excess liquid before stirring in the egg, then cover and microwave on high for 30 seconds. Remove from microwave and stir in cheese and pepper.
Spoon mixture into a warmed wrap and add the salsa on top. Fold the bottom of the wrap up over the eggs, and then roll the remaining sides around.
Wrap in waxed paper and refrigerate until ready to eat. When ready to serve, place wrap in microwave on high for 45-60 seconds, just until heated through. Grab it and go!
Individually, these wraps will hold in the refrigerator up to 3 days.
Makes 1 serving. (Increase recipe as needed.)
Recipe and photograph provided courtesy of Mushroom Council and mushroominfo.com; through ECES, Inc., Electronic Color Editorial Services.