New England Turkey & Baked Bean Burger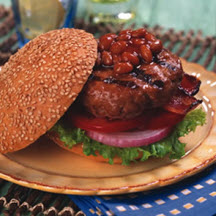 You don't have to visit Beantown to enjoy one of these tasty turkey burgers topped with baked beans and crispy strips of bacon.
Recipe Ingredients:
1 (16-ounce) package PERDUE® Fresh Lean Ground Turkey or Fresh Ground Chicken
6 strips bacon
1 (15-ounce) can baked beans
1 tablespoon minced red onion
4 burger buns
Thin red onion slices
Thin tomato slices
1 lettuce leaf, any kind
Mustard and mayonnaise (optional)
Cooking Directions:
Cook bacon according to package directions. Let cool; break each piece in half. Set aside.
If grilling, grease grill. Preheat grill or broiler.
In a medium bowl, stir 2 tablespoons drained baked beans, along with the minced red onion, into the ground turkey. Shape into 4 burgers. Grill or broil, turning occasionally, 10 minutes or until meat thermometer inserted in center registers 170°F (76.6°C).
Meanwhile, empty remaining baked beans into a small saucepan and heat on the stove, or on the grill if room allows. During the last 2 to 3 minutes of cooking burgers, toast buns on the cooler portions of the grill.
To serve, place each patty on a toasted bun. Top each patty with some bacon, a scoop of hot baked beans, and some red onion, tomato slices and lettuce. Spread mustard and mayonnaise on the top half of each bun if desired.
Makes 4 servings.
Nutritional Information Per Serving (1/4 of recipe): Calories 474; Total Fat 18g; Saturated Fat 5g; Trans Fat 0g; Cholesterol 64mg; Sodium 1002mg; Total Carbohydrate 46g; Dietary Fiber 7g; Sugars g; Protein 28g.
Recipe and photograph courtesy of Perdue Farms.