Olympic Village Pitas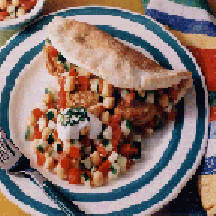 Mediterranean-style pita sandwiches with pork, white bean and chopped vegetables and yogurt.
Recipe Ingredients:
1 pound pork tenderloin, cut into 12 slices (3/4-inch each)
2 teaspoons vegetable oil
1 (15-ounce) can Great Northern beans or garbanzo beans, drained and rinsed
1/2 cup chopped tomato
1/2 cup chopped onion
1/4 cup chopped cucumber
2 large cloves garlic, minced
1/2 cup fat-free Caesar or Italian salad dressing
4 pita breads, warm
4 tablespoons fat-free plain yogurt
Salt and ground black pepper, to taste
Cooking Directions:
Flatten pork tenderloin slices between two pieces of plastic wrap gently with a meat mallet or the heel of your hand; cook in oil in medium skillet over medium to medium-high heat until no longer pink in the center, about 3 to 4 minutes on each side. Drain on paper toweling; season to taste with salt and pepper.
Mix remaining ingredients, except pita breads and yogurt. For each pita arrange 3 pork medallions on half of pita; spoon 1/2 cup ban mixture on other half and top with one tablespoon yogurt. Fold pitas in half to eat, or eat open-face with knife and fork.
Makes 4 servings.
Nutritional Information Per Serving (1/4 of recipe): Calories 417; Fat 9g; % Calories from Fat 20; Calcium 100mg; Carbohydrate 58g; Folate 176mcg; Sodium 79mg; Protein 26g; Dietary Fiber 7g; Cholesterol 49mg.
Recipe and photograph provided courtesy of The Bean Education & Awareness Network.