Pork Cordon Bleu Sandwiches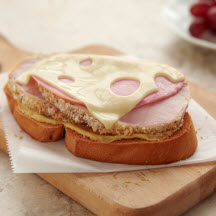 For lunch or a light supper, make these open-faced sandwiches with the leftover pork roast. Serve them with a salad of mixed greens, sliced apple, golden raisins and sweet onion, tossed with a balsamic vinaigrette dressing.
Recipe Ingredients:
3/4 pound cooked pork roast*
4 (1/2-inch) thick French bread, slices
5 teaspoons Dijon-style mustard
2 (1-ounce) slices deli ham, extra lean, halved
4 (1/2-ounce) slices reduced-fat Swiss cheese
Cooking Directions:
Preheat oven broiler. Place bread on rack in broiling pan. Broil 4 inches from heat for 1 to 2 minutes or until very lightly toasted. Spread mustard on toasted sides of bread.
Cut pork roast into 1/4-inch-thick slices. Layer slices of pork roast, ham and cheese on top of each bread slice. Broil for 2 to 3 minutes or until cheese is melted and sandwiches are slightly heated through. Serve immediately.
Makes 6 servings.
*1/2 recipe roasted and chilled Mustard-Crusted Pork Roast is a wonderful choice.
Nutritional Information Per Serving (1/4 of recipe): Calories: 390 calories; Protein: 35 grams; Fat: 9 grams; Sodium: 870 milligrams; Cholesterol: 90 milligrams; Saturated Fat: 3 grams; Carbohydrates: 42 grams; Fiber: 2 grams.
Recipe and photograph provided courtesy of National Pork Board.