Pork Sliders with Blue Cheese Sauce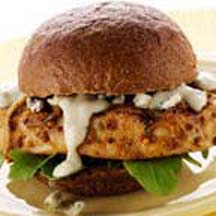 Sliders—mini sandwiches—are a favorite food item at parties. Recipe by Chef Ted Cizma.
Recipe Ingredients:
Marinade:
3/4 cup whole grain honey mustard
1 tablespoon liquid from can of chipotle chiles in adobo sauce
1 tablespoon granulated garlic
1 tablespoon cilantro, minced
1/8 cup rice wine vinegar
1/4 cup shallots, sliced
2 tablespoons brown sugar, packed
Juice and zest of 1 lime
1/2 tablespoon cracked black pepper
4 (8-ounce) boneless pork steaks, preferably flatiron cut
Sauce:
1 shallot, diced
1 clove garlic, minced
1/2 tablespoon butter
2 tablespoons dry white wine
1 3/4 cups heavy cream
1 1/2 cups (about 8 ounces) Wisconsin Blue Cheese
1 tablespoon fresh thyme, chopped or 1/2 teaspoon dried thyme
Salt and pepper
1 teaspoon white distilled vinegar or to taste
8 slider buns, preferably rye
2 cups baby arugula
Cooking Directions:
For Marinade: Combine all marinade ingredients. Whisk well to mix. Place steaks in heavy resealable plastic bag. Pour marinade over. Seal and refrigerate overnight.
For Sauce: Sauté shallot and garlic in butter until limp. Add wine and let boil until wine almost totally evaporates. Add cream, blue cheese, thyme, salt and pepper. Turn heat to low and cook until mixture is reduced by half, about 10 minutes. Add vinegar to taste. Pour sauce into blender beaker and puree until mixture is smooth. Cool.
Remove steaks from marinade and wipe dry. Grill outdoors or stovetop until cooked through.
To assemble sliders, cut steaks in half. Place each piece on bottom of bun and top with blue cheese sauce, arugula and bun tops.
Makes 8 sliders.
Recipe and photograph courtesy of Wisconsin Milk Marketing Board, Inc.