Portabella Cheese-Head Brat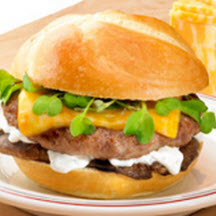 You don't have to be a vegetarian—or a 'cheese-head'—to appreciate these cheesy portabella brats.
Recipe Ingredients:
12 whole portabella mushrooms (4 1/2 to 5 inches in diameter), stems removed
1 cup sour cream
1 (0.4-ounce) package ranch buttermilk salad dressing
12 brat patties
12 (1-ounce) slices Wisconsin Colby-Jack or Mozzarella cheese
12 soft egg Kaiser buns (4 1/2-inch diameter), sliced
6 ounces radish sprouts (or alfalfa sprouts)
Cooking Directions:
Rinse mushroom caps under gentle running water; do not submerge. Pat dry with paper towel. Set aside.
Whisk together sour cream and dressing mix in sour cream container; refrigerate until ready to use.
Grill mushrooms, cap side down on hot grill with lid off until gill side (dark side) juices simmer. Flip mushroom and grill 1 minute. Remove from grill and let cool, gill side up.
Grill brat patties about 8 to 10 minutes, turning once, or until internal temperature registers 165°F (75°C) or so that no pink juices run when pierced with a fork.
Place 1 1/2 tablespoons of ranch dressing on top of each brat patty.
Place 1 cheese slice on top of dressing on each patty and lower grill cover until cheese melts.
Place 1 mushroom cap on bottom of each bun; top with brat patty. Sprinkle each with sprouts; cover with bun top. Serve immediately.
Makes 12 servings.
Recipe and photograph courtesy of Wisconsin Milk Marketing Board, Inc.