Prosciutto Panini with Mozzarella and White Bean Purée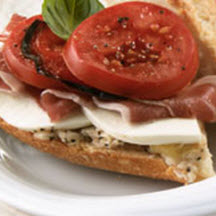 Simply irresistible! Roasted garlic-infused white bean purée is spread onto French bread and topped with fresh mozzarella, shaved prosciutto, strips of roasted red bell pepper, juicy ripe slices of Roma tomatoes and fresh basil leaves. Recipe by Chef Seth Bixby Daugherty.
Recipe Ingredients:
2 cups white beans that have been cooked very soft, plus 1 to 2 tablespoons cooking liquid
1 tablespoon roasted garlic puree
Salt and ground black pepper, to taste
1 loaf French bread, split
8 ounces Crave Brothers fresh mozzarella cheese, sliced
10 slices shaved prosciutto*
3 small red bell peppers, roasted and peeled, quartered**
2 Roma tomatoes, thinly sliced
10 large basil leaves
Cooking Directions:
Purée the beans and liquid, garlic, salt, and pepper in a food processor until smooth. Microwave or heat on the stove until hot to the touch.
Liberally spread the purée on one cut side of the bread. Top with the remaining ingredients, sprinkling the tomato layer with salt and pepper.
Slice and serve.
Makes 6 servings.
*Or substitute with thinly sliced ham.
**To save time, you can use ready-to-use roasted red peppers.
Recipe and photograph provided courtesy of Wisconsin Milk Marketing Board, Inc.