Ranch House Roast Beef Sandwich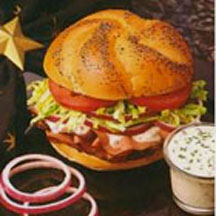 These hearty roast beef sandwiches, with horseradish-flavored ranch dressing, will easily satisfy the hungriest appetites.
Recipe Ingredients:
Horseradish-Ranch Dressing:
1 cup ranch-style salad dressing:
8 teaspoons prepared horseradish
4 teaspoons parsley, finely chopped
4 teaspoons sweet red pepper, finely chopped
Sandwiches:
4 large Kaiser rolls
12 ounces roast beef, thinly sliced
8 slices
Red onion
8 slices ripe tomato
2 cups lettuce, shredded
Cooking Directions:
In a small bowl, combine all ingredients for dressing. Set aside.
Slice Kaiser rolls in half. Evenly distribute roast beef on bottom half.
Drizzle salad dressing over beef.
Layer with onions, tomatoes and lettuce.
Cover with roll top and secure with toothpick.
Makes 4 servings.
Recipe and photograph provided courtesy of The Association For Dressings and Sauces.