Shades of Reuben Sandwiches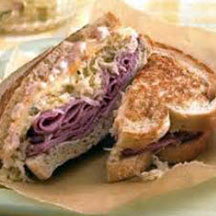 In this version of the Reuben, Havarti cheese takes the place of Swiss, fresh shredded cabbage replaces the sauerkraut, and the dressing is a combination of sour cream, grated apple, horseradish and caraway seeds. Once made, the sandwiches are wrapped in foil and heated in the oven until hot.
Recipe Ingredients:
Horseradish Sauce:
1/2 cup sour cream
1/4 cup prepared horseradish
1/3 cup grated peeled Granny Smith apple
1/2 teaspoon crushed caraway seeds
Sandwiches:
8 slices best-quality rye bread
8 ounces thinly sliced lean corned beef
6 ounces thinly sliced plain Havarti cheese
1/2 cup thinly sliced cabbage
Cooking Directions:
For Horseradish Sauce: Place sour cream, horseradish, grated apple and caraway seeds in a small mixing bowl and mix well to blend. If not using immediately, cover and refrigerate. Sauce can be made up to 2 days ahead. Serve cold or use as a spread for sandwiches.
For Sandwiches: Preheat oven to 375°F (190°C), adjusting rack to center position.
Place 1 bread slice on a work surface and top with one fourth of corned beef and one-fourth of cheese slices. Spread 1 1/2 to 2 tablespoons sauce over cheese. Top with one-fourth of shredded cabbage. Top with another bread slice and wrap tightly in aluminum foil. Repeat to make 3 more sandwiches.
Bake until cheese melts and sandwiches are hot, about 20 minutes; check after 15 minutes. When done remove sandwiches from oven with potholders. Carefully open foil wrappers and remove sandwiches. Slice sandwiches in half on diagonal and serve hot.
Makes 4 servings.