Smoked Turkey Stuffed Baguettes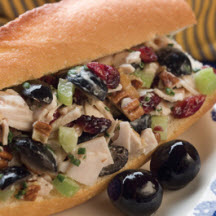 Recipe courtesy of California Ripe Olives.
Recipe Ingredients:
4 ounces sliced smoked turkey, diced (1/2-inch)
4 ounces sliced roasted turkey, diced (1/2-inch)
1 cup California Ripe Olives, wedged
1/2 cup chopped dried cranberries
1/3 cup diced celery (1/4-inch)
1/4 cup chopped chives
1/4 cup coarsely chopped pecans
1/4 cup low-fat mayonnaise
1 (12-ounce) French bread baguette, cut into 4 pieces
Cooking Directions:
In a medium sized mixing bowl, combine smoked turkey, roasted turkey, California Ripe Olives, cranberries, celery, chives, pecans and mayonnaise. Set aside.
Slice baguette pieces lengthwise, leaving approximately a 1/4-inch edge attached. Remove most of the white part of each baguette, leaving the crust and approximately 1/4-inch border around the inside.
Stuff approximately 1 cup (4-ounce) of filling into each baguette and serve.
Makes 4 servings.
Nutritional Information Per Serving (1/4 of recipe): Calories: 402; Calories From Fat: 89; Cholesterol: 29mg; Total Carbs: 57g; Protein: 20g; Sodium: 872mg.
Recipe and photograph courtesy of California Ripe Olives.