Spice Rubbed Pork Loin BLT Sliders with Dijon Remoulade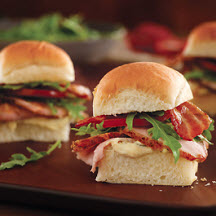 Recipe by Jenny Flake of PickyPalate.com.
Recipe Ingredients:
Dijon Remoulade:
1 cup low-fat mayonnaise
3 tablespoons Dijon-style mustard
3 tablespoons dill pickle relish, or finely chopped dill pickle
3/4 teaspoon garlic powder
3/4 teaspoon freshly ground black pepper
Spice-Rubbed Pork Loin:
2 pounds pork loin roast, boneless
1/2 teaspoon cumin
1/2 teaspoon smoked paprika
1/2 teaspoon thyme
1/2 teaspoon kosher salt
1/2 teaspoon ground black pepper, freshly ground
24 dinner rolls, such as Hawaiian or potato
2 cups baby arugula
3 to 4 plum tomatoes, cut into 24 rounds
12 slices bacon, cooked, each cut into quarters to make 48 pieces
Cooking Directions:
For Remoulade: Combine all ingredients in small bowl. Cover and refrigerate until ready to serve.
For Spice-Rubbed Pork Loin: Preheat the oven to 400°F (205°C).
Combine the cumin, smoked paprika, thyme, salt and pepper together in a small bowl. Rub all over the loin. Place on a rack in a small roasting pan. Roast for 10 minutes.
Reduce the oven temperature to 350°F (175°C). Continue roasting until an instant-read thermometer inserted in the center of the roast registers 145°F (62.7°C), 50 to 60 minutes. Let stand for 10 minutes before carving.
To Serve: Carve roast crosswise into thin slices. Divide slices into 24 portions. Spread each roll with remoulade. Fill with equal amounts of the pork and arugula. Top with a tomato round and 2 pieces of bacon. Serve warm.
Makes 12 servings.
Recipe and photograph provided courtesy of National Pork Board.