Spicy Alaska Salmon Wraps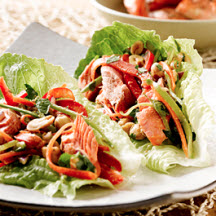 Recipe courtesy of Alaska Seafood Marketing Institute.
Recipe Ingredients:
12 ounces Alaska Salmon fillets, fresh, thawed or frozen
2 teaspoons sesame oil
1/2 teaspoon five spice powder
1/4 teaspoon salt
1/4 cup smooth peanut butter
1/4 cup hoisin sauce
1 tablespoon fresh lime juice
1 tablespoon soy sauce
1 teaspoon grated fresh ginger
1 to 2 tablespoons hot red chili paste
1/4 cup seasoned rice vinegar
1/2 cup julienned carrots
1/2 cup dry roasted peanuts
1/2 cup chopped fresh cilantro leaves
1/3 cup chopped red onion
1/2 cup julienned sweet red pepper
1/2 cup julienned snow peas
8 Bibb or iceberg lettuce leaves, trimmed to form cup shape
Cooking Directions:
Preheat broiler.
Rinse any ice glaze from frozen Alaska Salmon under cold water; pat dry with paper towel. Place salmon on spray-coated broiling pan, skin side down, and broil 5-inch from heat source for about 5 minutes.
Remove from oven; drain any excess liquid. Set oven to 375°F (190°C). Spread sesame oil over salmon; rub five spice and salt onto fish. Place in oven and bake an additional 5 to 8 minutes for frozen salmon or 3 to 4 minutes for fresh/thawed fish. Cook just until fish is opaque throughout. Remove skin, if any, and break into large chunks.
In a food processor, process peanut butter, hoisin sauce, lime juice, soy sauce, ginger, and chili paste until smooth; stir in rice vinegar until mixture has sauce consistency.
In a medium-sized bowl, combine carrots, peanuts, cilantro, onion, peppers, and snow peas; add about 2 tablespoon peanut butter sauce, tossing to coat. Add salmon chunks to vegetable mixture.
To Serve: Place lettuce leaves on serving platter; top with salmon mixture. Serve as a lettuce wrap or open-faced salad. Drizzle with additional sauce.
Makes 4 servings.
Nutritional Information Per Serving (1/4 of recipe; 2 wraps): Calories: 454; Total Fat: 29g; Saturated Fat: 5g; Cholesterol: 63mg; Total Carbs: 23g; Fiber: 6g; Protein: 30g; Sodium: 1044mg.
Recipe and photograph courtesy of Alaska Seafood Marketing Institute.