Tex-Mex Turnovers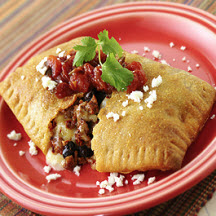 Recipe featured at the 2004 International Association Culinary Professionals breakfast. Chorizo is a highly seasoned, coarsely ground pork sausage that is widely used in Mexican and Spanish cooking.
Recipe Ingredients:
Turnovers:
8 ounces chorizo
1/4 cup green onions, sliced
1 (15-ounce) can black beans, drained and rinsed
1 chipotle peppers in adobo sauce, finely chopped
Nonstick cooking spray, as needed
2 (10-ounce) packages refrigerated pizza dough
2 2/3 cups shredded manchego cheese
1 cup (4 ounces) shredded cotija cheese
Ranchero Sauce:
1 tablespoon olive oil
1/4 cup green onions, sliced
1 clove garlic, crushed
1 (14.5-ounce) can diced tomatoes
1 teaspoon granulated sugar
1/4 teaspoon dried oregano, crushed
1/4 teaspoon ground cumin
2 teaspoons cornstarch
1 teaspoon cold water
Cooking Directions:
For Turnovers: Preheat oven to 400°F (205°C).
In a 2-quart saucepan, crumble and cook chorizo with green onions over medium heat until chorizo is browned. Drain

off fat and transfer to a medium bowl. Add black beans and chipotle pepper to chorizo and stir to combine.
Line 2 baking sheets with foil and spray with cooking spray. Set aside.
Working with 1 package of pizza dough at a time, unroll pizza dough. On a lightly floured surface, pat dough to a 15x10-inch rectangle. Cut dough into quarters, making 4 rectangles. Place about 1/3 cup manchego cheese on each rectangle, placing cheese on half the rectangle. Place 1/3 cup chorizo mixture on top of each mound of cheese. Brush edges of rectangle with water. Fold dough over opposite edge on rectangle. Seal edges with tine of fork. Place turnovers on prepared baking sheet. Repeat with remaining pizza dough, cheese, and chorizo mixture.
Brush turnovers with water. Bake in preheated over for 15 minutes or until golden. Serve with Ranchero Sauce and sprinkle with cotija cheese.
For Ranchero Sauce: In a medium saucepan, heat olive oil, green onion and garlic until onion is tender. Stir in tomatoes, pepper, sugar, oregano, and cumin and bring to a boil. Reduce heat and simmer, uncovered for 10 minutes or until most of the liquid has evaporated.
In a small bowl, blend cornstarch and water together; add to mixture in saucepan and bring to a boil. Cook and stir for an additional 2 minutes.
Makes 12 servings.
Recipe and photograph provided courtesy of National Pork Board.