Thai Lettuce Wraps with Satay Pork Strips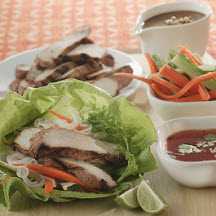 Recipe provided courtesy of National Pork Board.
Recipe Ingredients:
4 boneless top loin pork chops, about 1-inch thick
Vegetable oil cooking spray
Marinade:
1/2 cup hoisin sauce
2 tablespoons honey
1 tablespoon minced fresh gingerroot
1/2 teaspoon freshly ground black pepper
1/4 cup low-sodium soy sauce
2 tablespoons sesame oil
1 tablespoon minced garlic
Wraps:
2 medium carrots, peeled and cut into 2-inch matchsticks
2 ounces bean thread (Asian cellophane noodles), soaked for 15 minutes in hot water, and then drained
3 large heads butter lettuce, leaves separated
1 English cucumber, cut into 2-inch matchsticks
Leaves from 16 sprigs fresh cilantro
Sauces:
1/4 cup corn syrup
1 tablespoon lime juice
3 tablespoons minced fresh cilantro
1/4 teaspoon salt
1/4 cup prepared Thai sweet chili sauce
1/4 cup prepared Thai peanut sauce
Cooking Directions:
Place chops in large self-sealing plastic bag; combine marinade ingredients in small bowl and pour over chops. Seal bag and refrigerate 1 to 4 hour Remove from refrigerator 30 minutes prior to grilling.
Prepare medium-hot fire in charcoal grill or preheat gas grill to medium high. Arrange coals or burners so there is medium-low zone for finishing chops.
When ready to grill, remove chops from marinade (discarding marinade). Spray grill grate with vegetable oil spray.
Grill pork directly over medium-high fire until seared, 3 to 4 minutes per side. Slide chops to cooler part of grill, cover, and continue to grill until pork registers 145°F (62.7°C) when checked with an instant-read thermometer, about 5 minutes longer. Transfer to cutting board and let rest for 5 minutes before slicing.
While pork is marinating, arrange stack of large lettuce leaves attractively on large serving platter. Place carrots, cucumber, bean thread, and cilantro leaves in small dishes and arrange on serving platter.
For Sauces: In small serving bowl or ramekin, mix together corn syrup, minced cilantro, lime juice, and salt. Place the sweet chili sauce and the peanut sauce in small serving bowls or ramekins.
Cut pork into thin slices. Lay 3 medium-sized leaves of lettuce on serving platter and arrange pork on lettuce.
To Assemble: Let each guest place a lettuce leaf on an appetizer plate. Arrange 2 slices of pork on top of the lettuce. Mound a bit of carrot, cucumber, and bean thread over top. Add a couple cilantro leaves and drizzle one of the sauces over top. Fold over the lettuce to form a roll and enjoy!
Makes 8 servings.
Nutritional Information Per Serving (1/8 of recipe): Calories: 199; Total Fat: 6g; Saturated Fat: 1g; Cholesterol: 32mg; Total Carbs: 28g; Fiber: 2g; Protein: 14g; Sodium: 589mg.
Recipe and photograph provided courtesy of National Pork Board.