Tortilla Roll-Ups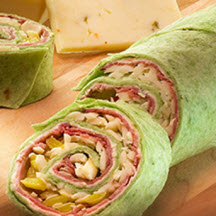 These tortilla roll-ups make a fast and tasty lunch or light supper. Or, cut them into 1-inch slices and serve them as pinwheel appetizers.
Recipe Ingredients:
12 (10-inch) flour tortillas
2 cups (1 pound) Wisconsin Jalapeño Cold Pack Cheese
2 1/4 cups cooked and shredded chicken
1 /2 cups prepared mild salsa
2 red bell peppers, seeded and diced
3/4 cup green onions, sliced
Suggested Accompaniments:
Guacamole
Sour cream
Pickled jalapeño peppers
Cooking Directions:
Spread each tortilla with 2 to 3 tablespoons Cold Pack.
In a bowl, toss chicken with salsa, red pepper and scallions.
Spoon approximately 1/2 cup mixture into each tortilla. Roll up tightly.
Slice and serve with guacamole, sour cream and pickled jalapeño peppers, if desired.
Makes 12 servings.
Variations:
Instead of using Cold Pack, try spreading each tortilla with 1 tablespoon sour cream, top with chicken-salsa-pepper mixture, and sprinkle with 1/4 cup shredded colby or jalapeño Jack cheese.
Cooked, chopped shrimp or pork may be substituted for chicken.
Recipe and photograph provided courtesy of Wisconsin Milk Marketing Board, Inc.