Turkey Cutlet on Ciabatta
with California Raisin and Onion Marmalade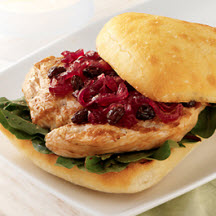 Recipe courtesy of California Raisin Marketing Board.
Recipe Ingredients:
Cutlets:
2 pounds turkey breast, cut into 5 ounces portions, pounded scaloppina-style (pound flat to 1/2-inch thick)
Salt and ground black pepper to taste
1 1/2 cups seasoned dry bread crumbs
1/4 cup olive oil
Marmalade:
1 large red onion, thinly sliced
1/2 cup granulated sugar
1/4 cup California raisins
1 cup red wine vinegar
Sandwich:
1 loaf Ciabatta bread or other crusty bread
4 ounces mixed green lettuce
2 tablespoons olive oil
Salt and ground black pepper to taste
Cooking Directions:
For Marmalade: Combine all ingredients in a small saucepan and bring to boil. Lower heat and simmer until syrup consistency. Remove and chill.
For Turkey Cutlets: Season cutlets with salt and pepper. Dredge in seasoned bread crumbs.
In a medium hot sauté pan, add olive oil and sauté cutlets until golden brown on both sides. This should only take a few minutes since they are very thin. Remove onto a platter lined with paper towels to absorb oil.
To Assemble Sandwich: Cut ciabatta into equal portions matching size of scalloppina.
On bottom piece of bread, spread a thin layer of marmalade. Place turkey on top of it.
Toss greens with a little olive oil, salt and pepper. Place on top of turkey along with other half of bread. Cut and serve.
Makes 8 servings.
Note: You can also grill the turkey instead of breading it, and serve with a simple salad and the marmalade for something lighter.
Nutritional Information Per Serving (1/8 of recipe): Calories: 380; Total Fat: 12g; Saturated Fat: 2g; Cholesterol: 70mg; Total Carbs: 36g; Fiber: 2g; Protein: 32g; Sodium: 680mg.
Recipe and photograph courtesy of California Raisin Marketing Board.