Turkey Roll-Up with Cranberry Chipotle Sauce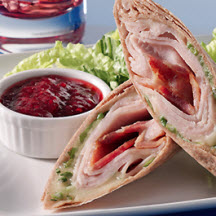 Recipe kindly provided by Chef Davidson Bettero of Sanctuary in Boston, Massachusetts.
Recipe Ingredients:
Cranberry Chipotle Sauce:
1/2 cup dried cranberries
1 cup red cranberry juice
1/8 chipotle pepper
Sandwich:
8 (12-inch) soft whole wheat flour tortillas
1 1/2 pounds deli or oven roasted turkey breast, sliced very thin
1 pound applewood smoked bacon (cooked and well drained)
16 thin slices Havarti cheese
1 cup finely chopped green onions
Cooking Directions:
To Make Cranberry Chipotle Sauce: Place sauce ingredients in a food processor/blender and pulse to a smooth consistency. Cover, refrigerate until ready to assemble sandwich.
To Assemble Sandwich:
Warm each tortilla over low heat on a preheated grill for 30 seconds.
Remove and layer 3 ounces turkey, 3 slices bacon, 2 slices Havarti and 2 tablespoons green onions atop each tortilla. Wrap tightly.
Bake in preheated 350°F (175°C) oven until tortilla is warm throughout.
Slice sandwich and serve with Cranberry Chipotle Sauce.
Serve with leafy green salad, if desired.
Makes 8 servings.
Recipe and photograph courtesy of National Turkey Federation.