Tuscan-Style Grilled Cheese Sandwich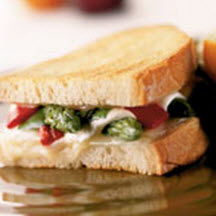 A terrific, springtime Tuscan-style grilled cheese sandwich with roasted asparagus, fresh basil leaves, roasted red peppers and three types of cheese—fontina, mozzarella and provolone.
Recipe Ingredients:
18 spears oven-roasted or grilled asparagus
1/2 cup prepared balsamic-garlic-olive oil vinaigrette
12 slices crusty sourdough bread
12 slices fontina cheese
12 slices fresh mozzarella cheese
36 fresh basil leaves
1 cup roasted red pepper pieces
12 slices provolone cheese
Extra-virgin olive oil, as needed
Cooking Directions:
In a large bowl, toss the roasted asparagus with vinaigrette. Cover and refrigerate for at least 2 hours before using.
Preheat the oven to 350°F (175°C).
Lay 6 slices of bread on a clean, flat surface. Top each slice with (in order): 2 slices of fontina cheese; 3 marinated, drained asparagus spears; 2 slices of fresh mozzarella; 6 fresh basil leaves; 2 1/2 tablespoons of red pepper pieces; and 2 slices of provolone. Top with a second slice of bread. Cover and reserve.
Brush both sides of each sandwich lightly with olive oil.
Heat a large nonstick skillet over medium heat and grill the sandwiches on both sides until golden brown. Transfer to a sheet pan and bake for 8 to 10 minutes or until heated through.
To serve, cut each sandwich on the diagonal and serve.
Makes 6 servings.
Recipe and photograph provided courtesy of Wisconsin Milk Marketing Board, Inc.