Fresh Cranberry Relish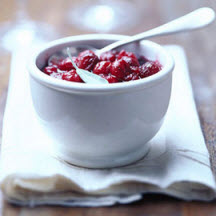 Don't neglect this traditional side dish for a successful holiday meal.
Recipe Ingredients:
2 medium oranges
1 pound fresh cranberries
1/4 cup dried currants
1 1/2 cups granulated sugar
1/4 cup finely chopped toasted, slivered almonds
1/8 teaspoon ground cinnamon
Orange peel curl (optional)
Cooking Directions:
Finely shred 1 tablespoon orange peel; set aside. Peel and section oranges. Using a food processor or food grinder with a coarse blade, process or grind orange sections, cranberries, and currants until coarsely chopped. Stir in sugar, almonds, cinnamon, and reserved orange peel.
Cover and store in the refrigerator up to 2 weeks, or freeze up to 6 months. Thaw overnight in refrigerator before serving. Serve as an accompaniment to roast poultry or pork. Garnish with orange peel curl, if desired.
Makes about 4 cups.
Recipe provided by Better Homes and Gardens - BHG.com a member of the Home and Family Network for the best of cooking, gardening, decorating and more. © 2003 Meredith Corporation. All Rights Reserved.