Grandma Flo's Cocoa Syrup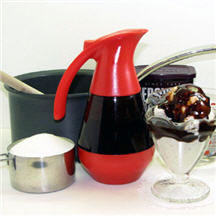 This easy, economical homemade chocolate syrup tastes wonderful and has many uses—drizzle it over ice cream and/or cake, flavor milk, or add 1/4 cup to packaged brownie mixes to make richer, moister bars.
Recipe Ingredients:
1 cup unsweetened cocoa powder
1 1/2 cups granulated sugar
1 cup hot water
Pinch of kosher or sea salt
2 tablespoons light corn syrup
1 teaspoon vanilla extract
Cooking Directions:
In a small saucepan bring the cocoa, sugar, water, salt and corn syrup to a rolling boil over medium-high heat, stirring constantly. Reduce heat to medium-low and cook for 3 minutes without stirring.
Remove from heat and add vanilla, stirring to mix well.
Cool to room temperature and then store in a tightly covered container in the refrigerator until ready to use. Keeps well for months.
Makes 2 1/2 cups; 20 (2 tablespoon) servings.
Tip: In the long run, purchasing unsweetened cocoa powder in larger quantities, such as is available at large warehouse retail stores, will increase savings.
Nutritional Information Per Serving (1/20 of recipe): 74.4 calories; 3% calories from fat; 0.6g total fat; 0.0mg cholesterol; 17.7mg sodium; 66.2mg potassium; 19.0g carbohydrates; 1.4g fiber; 16.7g sugar; 17.5g net carbs; 0.8g protein.
Recipe and photograph by Hope Pryor; copyright © 1999; property of CooksRecipes.com. See Terms of Use.