Roasted Red Pepper Béarnaise Sauce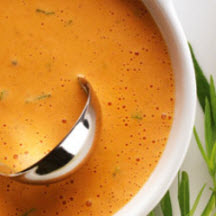 This flavorful butter sauce pairs well with poultry, steak and vegetables.
Recipe Ingredients:
2 tablespoons butter, softened
1/4 cup shallots, minced
1/4 cup white wine
2 tablespoons white wine vinegar
1 teaspoon fresh tarragon, chopped
3 egg yolks
2 teaspoons water
1 teaspoon lemon juice
6 tablespoons butter, melted and hot
1/2 cup roasted red pepper, chopped
Salt and ground black pepper, to taste
Cooking Directions:
In a heavy skillet, melt the 2 tablespoons softened butter over medium heat. Add shallots, white wine, white wine vinegar and tarragon; bring to simmer. Continue to simmer, reducing liquid to 1 tablespoon; set aside.
In a blender, combine egg yolks, water, and lemon juice; blend on high for 1 minute. With blender still running, pour hot butter in a slow, steady stream, until mixture thickens. Add reserved shallot and white wine reduction and red pepper; purée until smooth. Return sauce to saucepan and cook over medium-low heat, stirring frequently, for 5 minutes.
Season with salt and pepper and serve immediately.
Store sauce in refrigerator for up to three days. Reheat to serve.
Makes about 2 cups.
Recipe and photograph provided courtesy of Wisconsin Milk Marketing Board, Inc.