Savory Holiday Cherry Sauce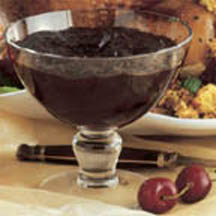 Serve this festive holiday cherry sauce with beef, pork, poultry or lamb.
Recipe Ingredients:
2 tablespoons butter
3 tablespoons minced shallots
2 1/2 cups canned sweet cherries, drained
1 cup Mirassou Winery's Central Coast Pinot Noir
1 cup chicken stock or low sodium broth
1 cinnamon stick
1 teaspoon tarragon
1 tablespoon cornstarch dissolved in 1 tablespoon water
Cooking Directions:
Melt butter in a medium saucepan. Add shallots and cook until golden brown, about 5 minutes. Stir in the cherries, wine, broth and cinnamon stick. Cook for 15 minutes over medium heat, then remove the cinnamon stick. Let cool slightly, then puree in a blender or food processor.
Return to the pan and add the tarragon and cornstarch. Cook over medium-low heat for 10 to 15 minutes or until thickened and reduced to about 1 3/4 cups, stirring frequently.
Makes 8 servings.
Recipe and photograph provided courtesy of www.nationalcherries.com and www.mirassou.com., through ECES, Inc., Electronic Color Editorial Services.