Alaska Cod Molé Tacos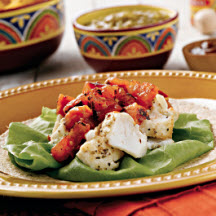 Recipe courtesy of Alaska Seafood Marketing Institute.
Recipe Ingredients:
1 teaspoon lemon pepper seasoning
1/2 teaspoon dried leaf oregano
1/2 teaspoon red chili flakes
1 cup molé sauce; ready-to-serve, warmed
2 medium tomatoes, thick sliced
4 Alaska Cod fillets (4 to 6 ounces each), fresh, thawed or frozen
1 tablespoon olive, canola, peanut or grapeseed oil
8 (6 to 7-inch) whole wheat or multi-grain tortillas, warmed
8 lettuce leaves (Romaine, butter or iceberg)
3/4 cup (6-ounce) Mexican-style sour cream (Mexican crema)
Cooking Directions:
Combine lemon pepper and oregano; set aside. Stir chili flakes into heated molé sauce.
In a heavy nonstick skillet, sear tomato slices on both sides until slightly blackened. Cool slightly; coarsely chop, drain and set aside in small bowl.
Wipe out pan. Rinse any ice glaze from frozen Alaska Cod under cold water; pat dry with paper towel.
Heat skillet over medium-high heat. Brush both sides of cod with oil. Place cod in heated skillet and cook, uncovered, about 3 to 4 minutes, until browned. Shake pan occasionally to keep fish from sticking.
Turn fillets over and season with lemon pepper and oregano. Cover pan tightly and reduce heat to medium. Cook an additional 6 to 8 minutes for frozen cod or 3 to 4 minutes for fresh/thawed fish. Cook just until fish is opaque throughout. Remove from heat; break into large chunks.
To Serve: Line tortillas with lettuce. Divide cod and tomatoes between tortillas. Top with 2 tablespoons molé sauce and 1 heaping tablespoon crema.
Makes 4 servings.
Nutritional Information Per Serving (1/4 of recipe; 2 tacos): Calories: 638; Total Fat: 24g; Saturated Fat: 7g; Cholesterol: 94mg; Total Carbs: 57g; Fiber: 7g; Protein: 44g; Sodium: 777mg.
Recipe and photograph courtesy of Alaska Seafood Marketing Institute.