Crab Legs with Dipping Sauce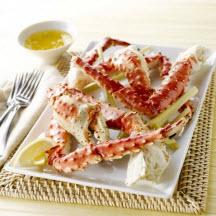 Crab legs are a cinch to prepare and fun to eat. Try one or all three of the suggested dipping sauces.
Recipe Ingredients:
3 to 4 pounds King, Snow or Dungeness crab legs, cooked
2 tablespoons olive oil
Butter Sauce:
1/2 cup unsalted butter, melted
1 tablespoon lemon juice
3/4 teaspoon garlic salt
1/2 teaspoon dill weed
1/8 teaspoon white pepper
Red Sauce:
1/2 cup bottled chili sauce
1 teaspoon prepared horseradish
1 teaspoon rice vinegar
Verde Sauce:
1 medium avocado, peeled, pitted and mashed
1/3 cup low-fat sour cream
2 teaspoons cumin
2 teaspoons lime juice
1/4 teaspoon hot pepper sauce
Cooking Directions:
Fill a large sauté or skillet with water to 1/2-inch depth; add crab legs and bring to a boil. Reduce heat, cover and simmer for 4 minutes. Drain and serve with your choice of dipping sauces.
To assemble dipping sauces, combine ingredients for desired sauce in a small bowl and blend well.
Makes 4 servings.
Recipe and photograph provided courtesy of Alaska Seafood Marketing Institute.