Alaska Keta Salmon Steaks
with Pea-Mint Purée and Dilled Baby Carrots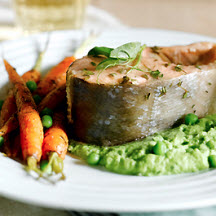 Recipe includes both grilling and oven roasting methods.
Recipe Ingredients:
4 Alaska Keta Salmon steaks (6 to 8 ounces each), fresh or thawed
1 pound fresh young carrots
2 tablespoons olive oil
1/4 cup chopped fresh dill, plus more for garnish, if desired
1/2 teaspoon red pepper flakes and salt
Juice of half a lemon
2 tablespoons fresh lemon-thyme leaves
1 cup pea vines, for garnish, if desired
Pea-Mint Purée:
2 tablespoons butter
1 cup chopped sweet onions
2 cloves (2 teaspoon) garlic, minced
3 cups (about 12 ounces) fresh or frozen green peas
Zest of half a lemon
1/2 cup fresh flat-leaf parsley
18 to 20 medium mint leaves
1 small seeded Thai chile pepper, chopped
2 tablespoons cream or half-and-half
Salt and ground black pepper to taste
Cooking Directions:
Remove Alaska Keta Salmon steaks from refrigerator 15 minutes before cooking.
Preheat grill to medium-high heat (400°F | 205°C).
Cut 2 long pieces of wide, heavy-duty aluminum foil. Stack the foil pieces (shiny side down) on a baking sheet; spray generously with cooking spray. Fold the foil sides and ends up (1 to 2-inch) to make a shallow pan.
Toss carrots with olive oil, 1/4 cup dill, salt and pepper and place on half of foil pan. Place salmon steaks on other half of pan. Sprinkle salmon with the lemon juice and lemon-thyme; season with salt and pepper.
Carefully transfer foil pan to the center of preheated grill. Do not cover the salmon with foil or close the foil over the salmon. Close grill cover and cook for 15 to 20 minutes, just until salmon is opaque throughout. If carrots are tender sooner, remove to serving plates and keep warm.
While salmon and carrots are cooking, sauté the onions and garlic in butter over medium-low heat until the onions soften and become translucent.
Cook peas in a pot of boiling, salted water for 2 minutes. Remove peas with a slotted spoon and transfer to a food processor, reserving about 1/3 cup of peas. Add lemon zest, parsley, and mint to hot water until wilted, about 30 seconds; transfer to food processor, reserving 1/2 cup pea water. Add onions, garlic and butter from pan to processor and blend with peas, mint and parsley. Add chile pepper and just enough reserved water to purée mixture. Blend in cream; season to taste with salt and pepper.
To Serve: Spoon and spread about 1/2 cup heated purée onto center of each plate. Top with a salmon steak and some carrots and reserved peas. Garnish with fresh dill or pea vines, if desired.
Makes 4 servings.
Oven Method: Roast in an oven preheated to 400°F (205°C) for 15 to 20 minutes, cooking just until fish is opaque throughout.
Nutritional Information Per Serving (1/4 of recipe): Calories: 502; Total Fat: 21g; Saturated Fat: 7g; Cholesterol: 146mg; Total Carbs: 35g; Fiber: 10g; Protein: 43g; Sodium: 242mg.
Recipe and photograph courtesy of Alaska Seafood Marketing Institute.