Alaska Salmon Risotto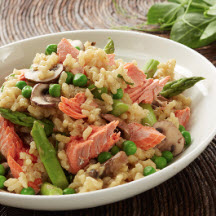 Recipe courtesy of Alaska Seafood Marketing Institute.
Recipe Ingredients:
2 (8-ounce) packages risotto with mushrooms
1 cup fresh mushrooms (button, crimini or porcini), cut into bite-sized pieces
1 (14.5-ounce) can chicken broth (regular or low sodium)
4 Alaska Salmon fillets (4 to 6 ounces each) fresh, thawed or frozen
Ground black pepper, to taste
10 to 12 ounces fresh asparagus (sliced into 2-inch pieces) and/or peas, blanched
1/4 cup freshly grated Parmesan cheese
1/4 cup chopped fresh basil leaves
Cooking Directions:
Prepare risotto according to package directions adding mushrooms, but cooking just three-quarters of total time, about 15 to 18 minutes.
While risotto is cooking, bring chicken broth to a simmer in a large (12-inch) nonstick pan or stockpot.
Rinse any ice glaze from frozen Alaska Salmon under cold water.
Turn off heat and gently add seafood to the chicken broth, skin side down. Return heat to a simmer. Once simmering, cover pan and cook 4 to 5 minutes for frozen salmon or 2 minutes for fresh/thawed fish. Turn off heat and let seafood rest in liquid for 5 minutes, until seafood is opaque throughout. Remove salmon from broth, season with pepper and cool slightly.
Add asparagus/peas and Parmesan to partially cooked risotto; finish cooking risotto.
Break salmon into large chunks (removing skin, if any). Gently fold salmon and basil into risotto.
Makes 6 servings.
Nutritional Information Per Serving (1/6 of recipe): Calories: 238; Total Fat: 8g; Saturated Fat: 2g; Cholesterol: 50mg; Total Carbs: 20g; Fiber: 2g; Protein: 23g; Sodium: 349mg.
Recipe and photograph courtesy of Alaska Seafood Marketing Institute.