Almond and Asparagus Crusted Grouper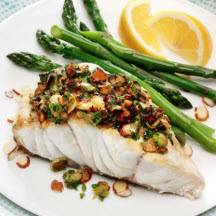 This delicious recipe is by Food Network celebrity, Chef Alex Guarnaschelli, courtesy of Fisher Nuts.
Recipe Ingredients:
2 tablespoons plus 1 teaspoon unsalted butter, softened - divided use
1 pound asparagus, ends trimmed - divided use
1/2 cup chopped Fisher Chef's Natural Sliced Almonds - divided use
2 tablespoons chopped flat-leaf parsley
1 tablespoon dark soy sauce
1 1/2 pounds Grouper or Orange Roughy, skin removed, cut into four 6-ounce portions
1/2 teaspoon salt
1 lemon, cut into wedges
Cooking Directions:
Combine 2 tablespoons of butter with 1/2 cup thinly sliced asparagus pieces, 1/3 cup almonds, parsley and soy sauce. Stir until mixture forms a paste and set aside.
Preheat the broiler. Place the fish portions onto a baking sheet sprayed with non-stick cooking spray. Broil for two to three minutes. Turn fish over, broil for one minute. Remove from oven and spread with asparagus mixture. Broil for one to two minutes or until crust has melted and browned and fish flakes easily with a fork.
Boil enough water to cover remaining asparagus in a large skillet over high heat. Add salt and remaining asparagus. Cook for two to three minutes or until asparagus is tender. Drain and toss with remaining 1 teaspoon of butter.
Arrange the asparagus spears on a platter or individual plates, top with the fish and sprinkle with lemon juice and remaining 5 teaspoons of almonds. Serve immediately.
Makes 4 servings.
Prep Time: 15 minutes.
Cook Time: 15 minutes.
Recipe and photograph provided by Fisher Nuts via Brandpoint Content; Copyright 1996-2015.