Aromatic Fish-Topped Naan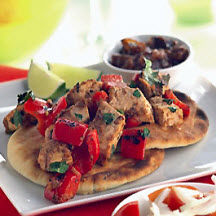 Recipe courtesy of Seafish, the UK Sea Fish Industry Authority.
Recipe Ingredients:
9 ounces whitefish* fillets, skinned and cubed
8 ounces natural plain yogurt
1 teaspoon ground cinnamon
1 teaspoon ground ginger
2 teaspoons ground cumin
2 tablespoons tomato chutney
2 small naan bread
4 teaspoons vegetable oil
1 red pepper, seeded and cubed
2 tablespoons lemon juice
Fresh chopped coriander (cilantro), for garnish
Cooking Directions:
Mix together the yogurt with the spices and chutney. Add the fish and mix well. Chill for 10 minutes
Meanwhile heat the naan bread according to package instructions.
Heat half the oil in a frying pan and cook the pepper for 5 minutes until soft. Add the remaining oil and add the fish. Cook for a further for 4 minutes, or until the fish is cooked. Add the lemon juice.
Spoon the fish over the naan bread and garnish with the coriander. Serve with chutney and lemon wedges.
Makes 2 servings.
*Such as pollack, coley, amberJack, basa, wahoo, tilapia, mahi mahi, snapper and swai.
"From sea to plate, Seafish delivers expert knowledge, skills and support which help the UK seafood industry secure a sustainable and profitable future."
Recipe and photograph courtesy of Seafish, the UK Sea Fish Industry Authority www.seafish.org.