Barbecued Fish with King Prawns and Kiwi Raita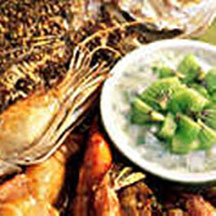 A festive platter of grilled fish and king prawns, seasoned with lemon grass, ground coriander seed and cracked peppercorn, and served with a refreshing mint and kiwifruit raita.
Recipe Ingredients:
1 (2 1/2 to 3 pound) whole white fish, cleaned, gutted and scaled
2 cloves garlic, peeled
1 small piece lemon grass, smashed
3 tablespoons olive oil
1 lemon, juiced
2 tablespoons coriander seeds, coarsely ground
1 tablespoon cracked black peppercorns
1 pound large green king prawns
1/4 cup dry bread crumbs
Kiwi Raita:
1 (8-ounce) container plain yogurt
3 green kiwifruit, peeled and diced
1 tablespoon finely chopped fresh mint
2 tablespoons chopped fresh mint
Cooking Directions:
Rinse the fish thoroughly, drain briefly then pat dry with kitchen paper. Put the garlic and lemon grass inside the cavity.
In a small bowl blend the the olive oil, lemon juice and three quarters of a teaspoon of salt.
Mix the ground coriander seeds and cracked pepper together on a large plate and press the mixture onto the fish. Open up a fish grill, oil it lightly, and put in the prepared fish. Secure the clamp. Put the fish on the barbecue over a glowing bed of coals, or over a medium heat on a gas barbecue. Cook 20 to 30 minutes, turning and basting three or four times with the lemon and oil mixture.
To check if the fish is cooked, insert a knife in the meatiest part; the flesh should nearly be white all the way to the bone (it will continue to cook as it stands).
Prepare the prawns in advance. Twist off the heads, then peel off the shells, leaving the small piece of shell on the tail intact. Slit down the back of each prawn with a sharp knife and gently extract the black or red vein. Rinse and pat dry with kitchen paper. Thread onto skewers. A few minutes before the fish is ready, coat the prawns with crumbs. Cook the prawns briefly, on an oiled barbecue plate (cook them on the coolest part of the plate), until just cooked through and golden in color.
Alternatively, cook whole prawns or scampi; rub with oil and cook several minutes on a barbecue plate, or till just cooked through.
Meanwhile, make the raita. Mix everything together in a bowl, reserving some of the Kiwifruit for the top of the raita. Season to taste with salt. Transfer to a small serving bowl and garnish with chopped Kiwifruit.
Transfer the barbecued seafood to a platter and serve with the raita.
Makes 6 servings.
Recipe and photo courtesy of Zespri™ New Zealand Kiwifruit.