Blue Crab Cake Benedict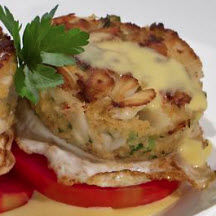 Recipe courtesy of Florida Agriculture Bureau of Seafood and Aquaculture.
Recipe Ingredients:
Hollandaise:
3 large eggs, yolks separated
1/4 teaspoon Dijon style mustard
1/2 lemon, juiced
Hot pepper sauce, to taste
1/2 cup unsalted butter, melted
Sea salt to taste
Blue Crab Cakes:
1/4 cup red onion, finely chopped
2 tablespoons fresh flat-leaf parsley, chopped
3 tablespoons light mayonnaise
2 tablespoons Dijon mustard
3/4 teaspoon seafood seasoning
1/2 teaspoon Worcestershire sauce
2 egg whites, lightly beaten
1 pound crabmeat, drained, shell pieces removed
1 1/2 cups panko (Japanese bread crumbs) - divided use
2 tablespoons olive oil
4 large eggs, pan fried
1 large tomato, sliced
Cooking Directions:
For Blue Crab Cakes: Combine first seven ingredients in a medium bowl. Gently fold in crabmeat and 3/4 cup panko crumbs. Cover and chill 30 minutes.
Shape the crab mixture into 8 patties about 3/4-inch thick. In a shallow dish, roll patties in remaining 3/4 cup panko crumbs, coating evenly.
In a nonstick skillet over medium heat, heat oil and cook 4 crab cakes at a time for 7 minutes until golden brown on each side.
For Hollandaise: In a blender or food processor, add mustard, lemon juice, egg yolks and a few dashes of hot pepper sauce. Blend ingredients and slowly add the melted butter until the ingredients thicken. Taste Hollandaise and adjust seasoning with salt and hot pepper sauce.
To Assemble: Place one or two slices of tomato on each plate. Season the tomato lightly with salt and pepper.
Place a pan fried egg over each tomato slice. Add a crab cake to the top of each pan fried egg. Evenly distribute the Hollandaise sauce over the top of each crab cake and serve immediately.
Makes 4 servings.
Recipe and photograph courtesy of Florida Agriculture Bureau of Seafood and Aquaculture.