Boiled Crawfish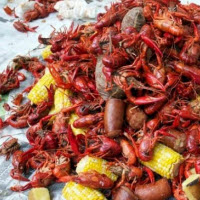 A crawfish boil is all about having a good time with good friends and good food—Louisiana-style.
Recipe Ingredients:
40 pounds crayfish
1 cup salt
6 tablespoons white pepper
6 tablespoons cayenne pepper
6 tablespoons pepper
5 pounds onions
12 ears of corn (whole)
5 pounds potatoes
2 teaspoons white pepper
2 teaspoons cayenne pepper
2 teaspoons ground black pepper
2 teaspoons salt
Cooking Directions:
Wash crayfish and clean well; set aside.
Fill a large kettle with water, add 1 cup salt, 6 tablespoons white pepper, 6 tablespoons cayenne pepper, and 6 tablespoons pepper; bring to a boil. Add onions, whole ears of corn, and potatoes. Return to a boil, cover, lower the heat to medium, and cook for 8 minutes. Add the crayfish, cover, and raise the heat to high.
After the kettle boils, cover, and cook for 7 minutes. Remove from the heat and let sit for 4 minutes; do not remove the cover. Remove the onions, corn, and potatoes to a bowl and drain the crayfish. Sprinkle with 2 teaspoons white pepper, 2 teaspoons cayenne pepper, 2 teaspoons pepper, and 2 teaspoons salt.
Makes 12 servings.