Bonefish Grill's Wild Alaskan Cedar Plank Salmon
with a Chorizo Topping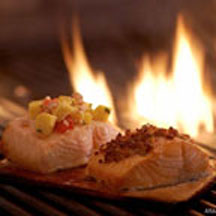 This tantalizing recipe for Wild Alaskan Cedar Plank Salmon with a Chorizo Topping hails from the restaurant, Bonefish Grill.
Recipe Ingredients:
Cedar Plank Salmon:
4 pieces wild Alaskan salmon, skin-on, 7 ounces each
Salt and ground black pepper, to taste
4 lemon halves
4 food-safe cedar planks (or one plank large enough to fit four pieces of fish)
Chorizo Topping:
8 ounces chorizo sausage links
1/2 cup seasoned bread crumbs
Zest from 1 medium lemon
Cooking Directions:
Grill chorizo on a charcoal or gas grill until well done. Cool cooked sausage in the refrigerator for at least one hour. Using a food processor, chop sausage into pea-sized pieces. Place into mixing bowl and blend well with bread crumbs and lemon zest. Cover and refrigerate.
Soak cedar plank(s) in water for at least 3 hours.
Place salmon, skin side down, onto soaked cedar plank. There should be a 1-inch space between each piece of salmon. Season with salt and pepper.
Divide chorizo topping into 4 equal portions and place on top of the fish. Place salmon on planks onto grill and close lid. Cook for 15 minutes. (Note: The plank will char around the edges but should not catch flame.)
Place onto platter, drizzle with melted butter and squeeze fresh lemon juice over salmon. Serve immediately.
Makes 4 servings.
Recipe and photograph provided courtesy of www.bonefishgrill.com; through ARAcontent.