Clams with Red Peppers and Pasta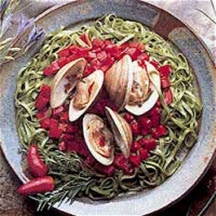 Recipe courtesy of National Fisheries Institute.
Recipe Ingredients:
3 dozen fresh clams
1/4 cup vinegar
2 tablespoons olive oil
2 tablespoons butter
1 clove garlic, minced
1 teaspoon Tabasco sauce
2 large red bell peppers, diced
1/2 teaspoon each fresh rosemary and thyme, chopped
Linguine pasta
Cooking Directions:
Scrub clams, cover them with water and vinegar. Let stand 30 minutes, drain and rinse.
Prepare pasta according to package directions.
In large skillet, sauté garlic and Tabasco sauce in olive oil and butter for several minutes.
Add remaining ingredients and clams. Cover skillet; simmer 8 to 10 minutes until clams open. Discard clams that do not open.
Serve over cooked linguine.
Makes 4 servings.
Recipe and photograph courtesy of National Fisheries Institute.