Crab and Tomato Parcels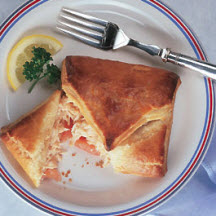 Recipe courtesy of Seafish, the UK Sea Fish Industry Authority.
Recipe Ingredients:
8 ounces mixed crabmeat
4 to 5 ounces fromage frais*
Half a small onion, finely chopped
1/2 teaspoon mixed herbs
12 ounces prepared puff pastry
2 medium tomatoes, skinned, seeded and chopped
1 small egg, beaten
Chopped fresh flat-leaf (Italian) parsley and lemon slices, for garnish

Cooking Directions:
Preheat the oven to 400°F (205°C).
Mix together the crabmeat, fromage frais, onion and herbs.
Roll out the pastry into a large rectangle 16x8-inches approximately. Cut into four pieces.
Divide half the crab mixture between the pieces of pastry. Top with the tomato and remaining crab mixture.
Fold the pastry over to form a parcel, sealing the edges well. Brush with the beaten egg and bake for about 15 minutes until golden brown.
Garnish with parsley and lemon slices and serve warm with salad.
Makes 4 servings.
*Ricotta, cottage cheese or cream cheese may be substituted for fromage frais.
Nutritional Information Per Serving (1/4 of recipe): Calories: 441; Total Carbs: 35g; Fiber: 0g; Protein: 19g.
"From sea to plate, Seafish delivers expert knowledge, skills and support which help the UK seafood industry secure a sustainable and profitable future."
Recipe and photograph courtesy of Seafish, the UK Sea Fish Industry Authority www.seafish.org.